NB! 26.06-23.07.2023 spa centre TERMID is closed due to repairs!
Treatment package from 54 € person, night
Package is valid for stays from 4 nights.
Per each night 3 different treatments, full catering and use of the sauna and water centre TERMID.
ESTONIA Medical Spa & Hotel specializes in prevention and rehabilitation of the bone and joint diseases. We also help to relieve respiratory, cardiovascular, peripheral nervous system and skin diseases. We recommend to take a treatment package at least for six days so that the treatments would be more effective.
PACKAGE PRICE 2023
person/night (minim. 4 nights)
WITH ACCOMMODATION:
1.01-7.01
17.02-6.04
29.10-21.12
8.01-16.02
7.04-1.06
27.08-28.10
2.06-29.06
6.08-26.08
22.12-31.12
30.06-5.08
THE PACKAGE


IS NOT AVAILABLE 10.-23.07



 in Standard room
57 €
54 €
62 €
70 €
80 €
in Standard room++
65 €
62 €
70 €
78 €
88 €
in Solu room
(a single room with a shared bathroom)

62 €
59 €
67 €
80 €
90 €
in Family room
73 €
70 €
78 €
90 €
100 €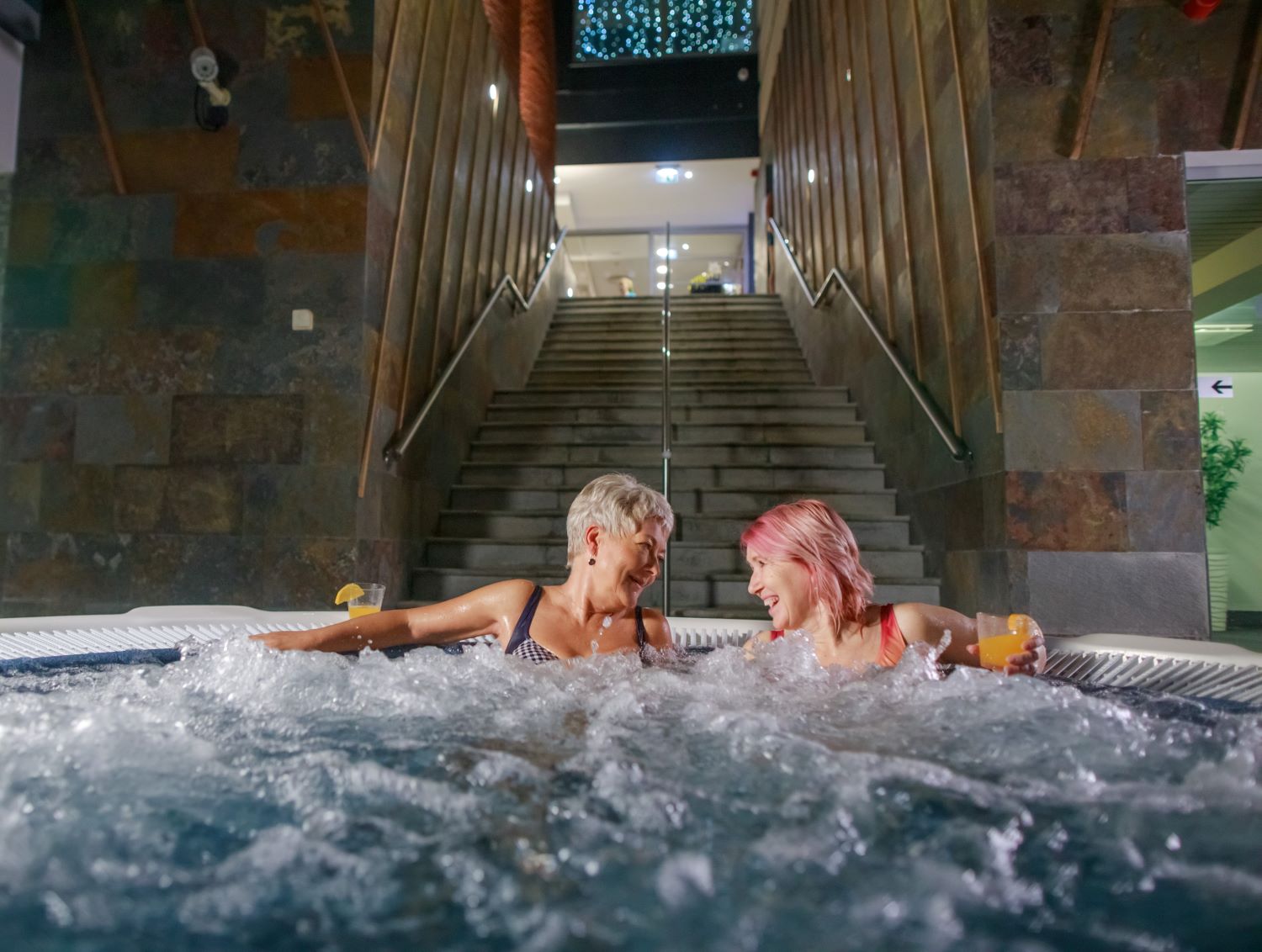 NB! 26.06-23.07.2023 spa centre TERMID is closed due to repairs! During this period the package does not include spa centre TERMID visit and the package rate discount is – 8€/person per night (4-14 years old child rate discount is – 4€/night). 
Room in single-use (Standard room, Standard room++, Family room) extra charge 20€/room, night; 2.06-26.08. and 22.12-31.12 extra charge 30€/room, night.
Final price depends on a date of arrival. Find the booking and cancellation policy here and house rules here.
Treatment package includes:
Accommodation in the chosen room (from 4 nights)
Medical consultation with a doctor
A personal therapy package compiled, including 3 different treatments per night from the selection as follows:
– guided aqua gymnastics or therapeutic gymnastics in the gym (back and joint training group or neck and shoulder training group) Mon-Fri
– partial massage 20 min Mon-Sun
– ozokerite (mountain wax) treatment Mon-Sat
– relaxation therapy Mon-Sun
– paraffin treatment for hands Mon-Sun
– treatment bath with herbs or with almond oil Mon-Fri
– treatment bath for feet Mon-Fri
– localised cold therapy Mon-Fri
– salt chamber Mon-Sun
– inhalation Mon-Fri
– light treatment with 2 Bioptron lamps Mon-Fri
– light therapy for mood Mon-Sun
– treatment for tired legs (wrapping with Heparin gel) Mon-Fri
– prescribed by a doctor: underwater shower massage Mon-Fri,  magnetotherapy Mon-Fri, ultrasound therapy Mon-Fri, microwave therapy Mon-Fri, diadynamics Mon-Fri, amplipulse Mon-Fri, d'Arsonval Mon-Fri

Morning exercises Mon-Fri
Buffet breakfast, lunch and dinner (on the day of arrival dinner and on the day of departure breakfast)
Use of the sauna and water centre TERMID 7:30-17:00 (on departure day the entrance until 10:00).
Bathrobes for adults in a hotel room
Check-in at 15:00, check-out at 12:00
Children:
– Up to 3 years (incl.) free of charge using existing beds. Baby cot 10 €, applies one time for the whole stay
– 4-14 years (inc.) with two adults on extra bed 34 €/night
– 4-14 years (inc.) with one adult 38 €/night
Standard rooms can accommodate up to one (1) extra bed. The number of rooms is limited.
Family rooms are also available. Price details can be obtained upon making a reservation.
The child's price includes accommodation, meals and use of the water center in accordance with the contents of the adult's package.
For extra charge:
– other medical treatments
– beauty treatments
Information and bookings: e-mail sales@spaestonia.ee, phone +372 44 76 905
Book a room